Damn! Muttons never fail to crack me up. They are so funny! :)
Alright, I have not been updating since like..four or five months ago?
Within that period, ALOT of things have happened. Ok fine! I am lying.

Nothing much was happening afterall. Apart from the crazy mugging in May.
The weird thing is I kinda prefer mugging for exams rather than going to office. Opps!

Taking from where I left in February, I did an internal switch from doing PI claim to Matrimonial and Probate. It is definitely a more challenging avenue as well as a great way to give my resume an extra oomph!

Let's not talk about work right. It is only half the year that has gone by but I cant wait for December already! HAHA! I know, I know..But I cant help it. December is such a great month full of festivities and of course Vietnam and hopefully..BATAM! :D

Oh! I have been reading the Shopaholics series and the irony of it..I feel a much stronger urge to SHOP!

I have been this itch to splurge on a good timepiece and something caught my eyes when I was at Hougang Mall window shopping after my final paper on 27th May.

Almost one month has passed by and I still cant get it off my head! Ok here it is..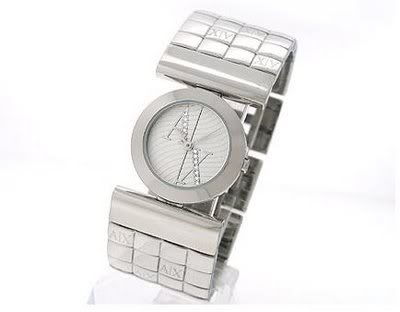 Isnt it GORGEOUS?? Should I get it?? Should I??

Just now, I finally decided that I should invest on contact lenses. My vision is getting worse and a visit to the optician just now was depressing! Aiyah, I want to cry lah! Such a huge jump you know. In anyway made myself a new pair of specs and going to start taking better care of my eyesight. No more straining my eyes!! Maybe I should start eating plenty of Vitamin A! Since I purchased those supplements for the eyes might as well start consuming it. Hmm..
Going to start tonight! I can do it!!

I think I have gain more weight!! I want to take up swimming to past the time. I am so dead bored now without school!

Ever since exams ended, I have been catching up with my poly friends as well as the usual group of friends. It felt quite good and very interesting. Especially when you received news like a friend was 4-5 months pregnant! Congratulations!

You know I cant imagine myself being pregnant at 25! I know it is the right age to be pregnant and having children BUT I cant imagine myself doing that. Changing diapers, breastfeeding, waking up in wee hours of the morning etc etc. Not prepared for that yet! Maybe we should not over think about all these and just go with the flow. Perhaps that might help I guess. Hehe.


NAD! If you are reading this..I MISS YOU LAH!! :(

I want to fly to Australia BUT my bank account does not permit. Insyallah next year alright! Which month will be a good time? Hehe.


I know my entry is in a mess but I want to share with you guys this awesome song sang by a talented man I found in Youtube! Loving Bruno! I shall end with this beautiful song as a lullaby! Goodnight lovely people! Peace! :D





Oh I particularly love this..Somebody actually mixed Bruno's version with Natasha Bedingfield's version. I was in awe!!! *swoon*